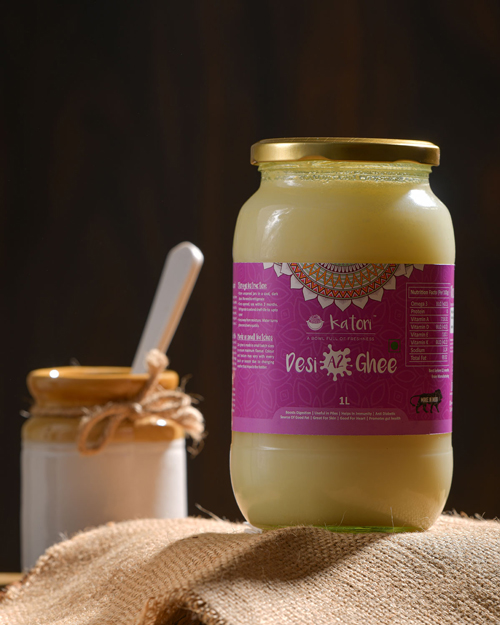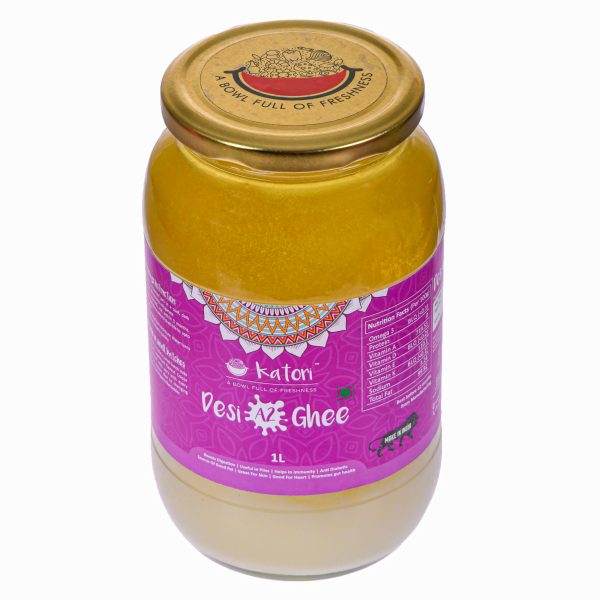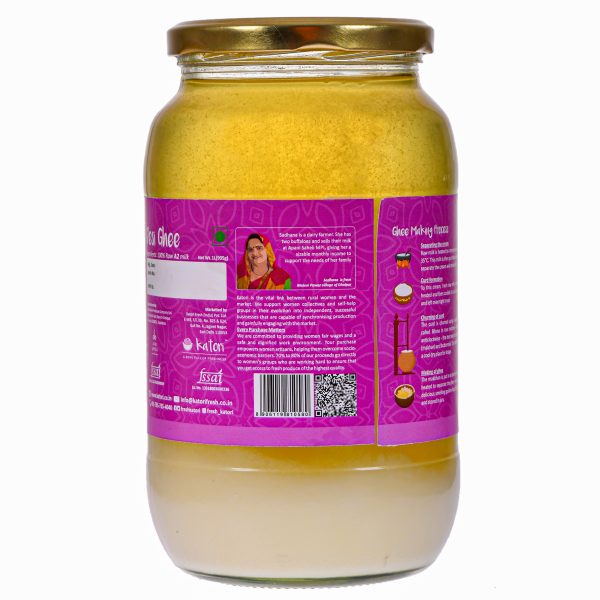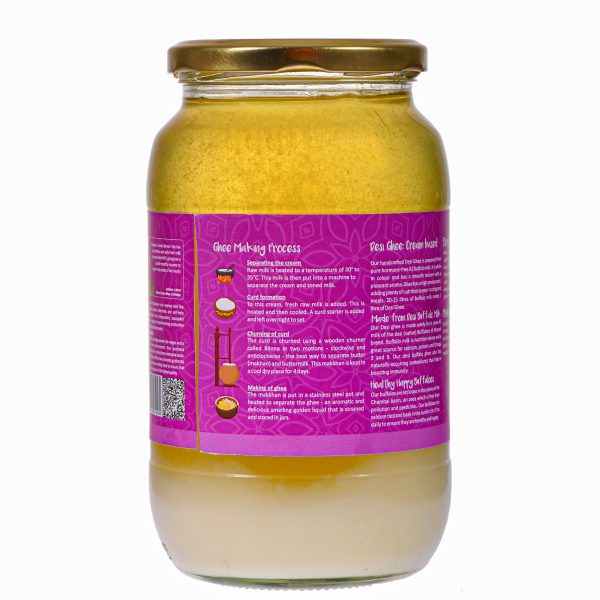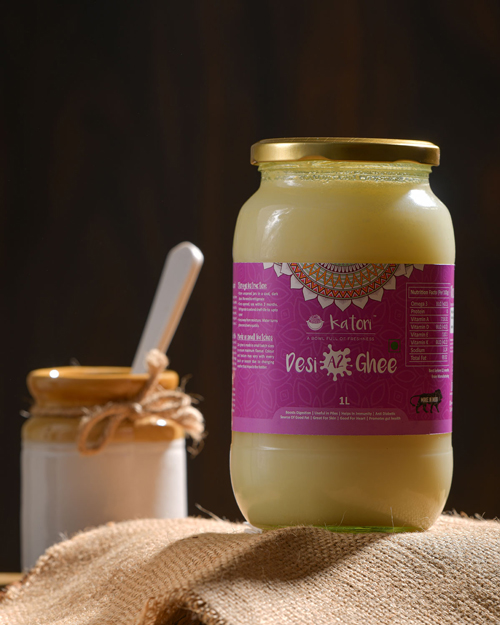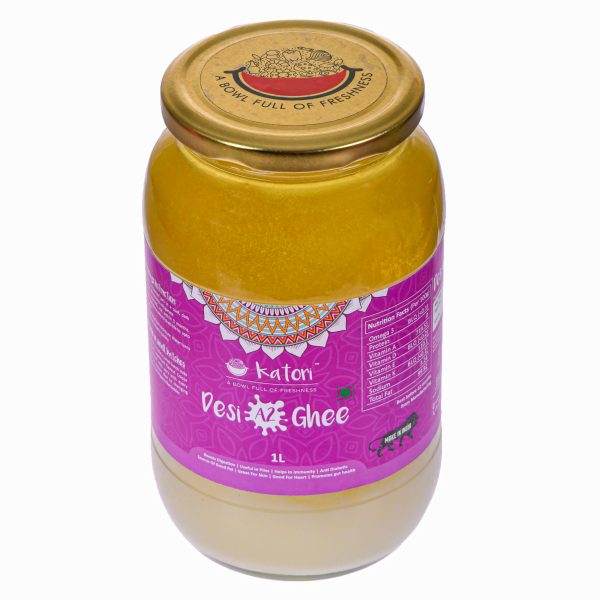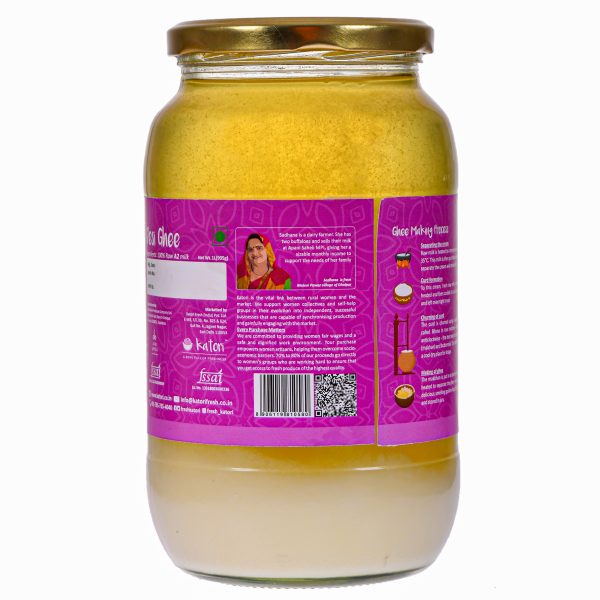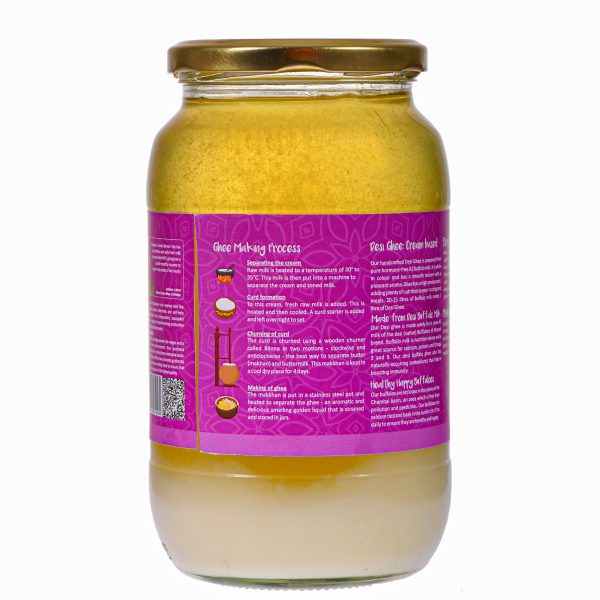 Katori Hand Churned Bilona Deshi Ghee | Glass Bottle
Our desi ghee is traditionally handcrafted using raw buffalo milk that is first cultured into curd, which is then hand-churned and then simmered to make awesome and delicious ghee. It is rich in probiotic goodness and is made from hormone-free milk that is collected from grass-fed and free grazing buffaloes owned by micro-farmers. The ghee is 100% natural with zero additives.
---
---
Made from Desi Buffalo Milk
Our Desi ghee is made solely from the milk of desi (native) Buffaloes of the Murrah breed.
Buffalo milk is nutrition-dense and a great source of calcium, protein, and Omega 3 and 9. Our desi buffalo ghee also has naturally occurring antioxidants that help in boosting immunity.
Delicious white ghee
Our desi buffalo ghee is white in color and has a smooth texture with a pleasant aroma. It has a high smoke point and will add a bucket load of nutrition to your cooking and meals. Desi buffalo ghee is rich in magnesium and phosphorus. It is a great source of calcium & protein and contains Omega 3 and 9. Our desi buffalo ghee also has naturally occurring antioxidants that help in boosting immunity. It also has a better shelf-life and lasts longer than cow ghee.
Use it for all your cooking, frying, and seasoning needs
Excellent to use as a topping for your paranthas or roti's
Benefits
A Nutritious Addition to Your Diet
Promotes gut health
Useful in piles
Induces natural sleep
Helps in immunity
Good source of energy
Source of good fat
Good for intestinal health
Keeps constipation at bay
Good for heart
Great for skin
Slow downs aging
Production Process
Healthy Happy Buffaloes
One of our main goals at Katori is to promote sustainable, natural, and ethical dairy practices and our team closely works with partner farmers to adopt this ethos. Our buffalos are let loose in the plains of the Chambal basin, an area that is free from pollution & pesticides. Our buffaloes are also seldom tied and bask in the sun for at least 5 to 7 hrs daily to ensure they are healthy and happy.
Traditional Method
Around 20-25 liters of buffalo milk is required to make 1 liter of Ghee.
Separating the cream: Raw milk is heated to an appropriate temperature of 30 to 35 degrees. This milk is then put into a machine to separate the cream and tone milk.
Curd formation: To this cream, fresh additional raw milk is added in the same proportion. This is heated and then cooled. A curd starter is added to it and left overnight to let the curd set in.
Churning of curd: The curd is churned using a wooden churner called bilona in two motions – clockwise and anti-clockwise – the best way to separate butter (Makhan) and buttermilk. This makkhan is kept in a cool dry place for 4 days.
Making of ghee: The makkhan is put in a stainless steel pot and heated on a medium-high flame till the ghee is separated. Finally, this aromatic & delicious-smelling golden liquid is strained through a strainer and stored in jars.
It is made in small batches and conforms to the highest quality processes with all certifications & compliances met.
Storage Instructions:
If unopened, then store in a cool, dark place. There is no need to refrigerate
Once opened, use within 3 months. To extend shelf-life, refrigerate for up to a year
Keep moisture out of the ghee jar, as the water will turn the ghee rancid very quickly
Every Purchase Matter
We are committed to providing women fair wages and a safe and dignified work environment. Your purchase empowers women artisans, helping them overcome socio-economic barriers. 70% to 80% of our proceeds go directly to women's groups who are working hard to ensure that you get access to fresh produce of the highest quality.
Add a Review
Your email address will not be published. Required fields are marked *