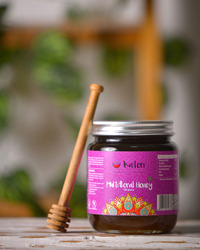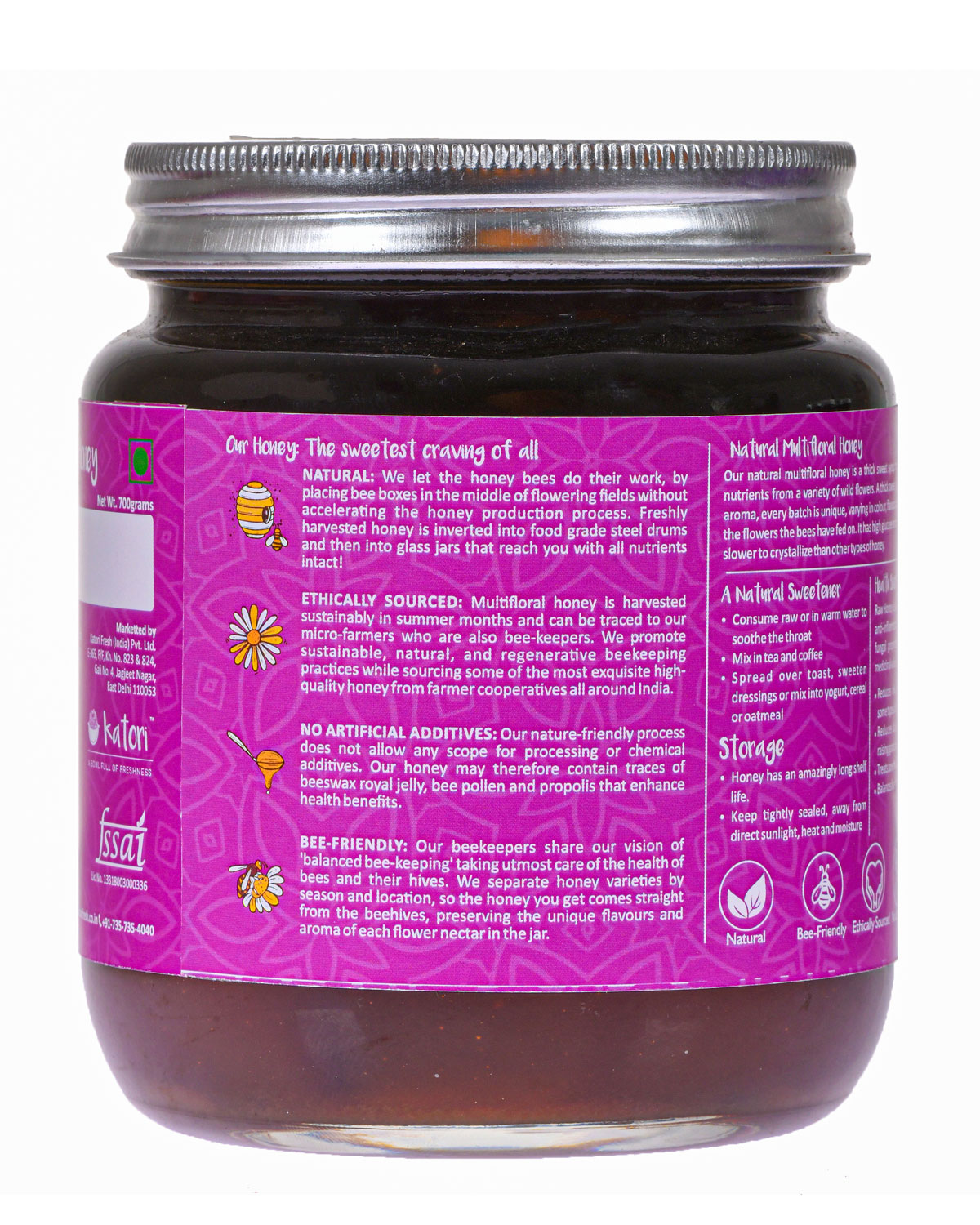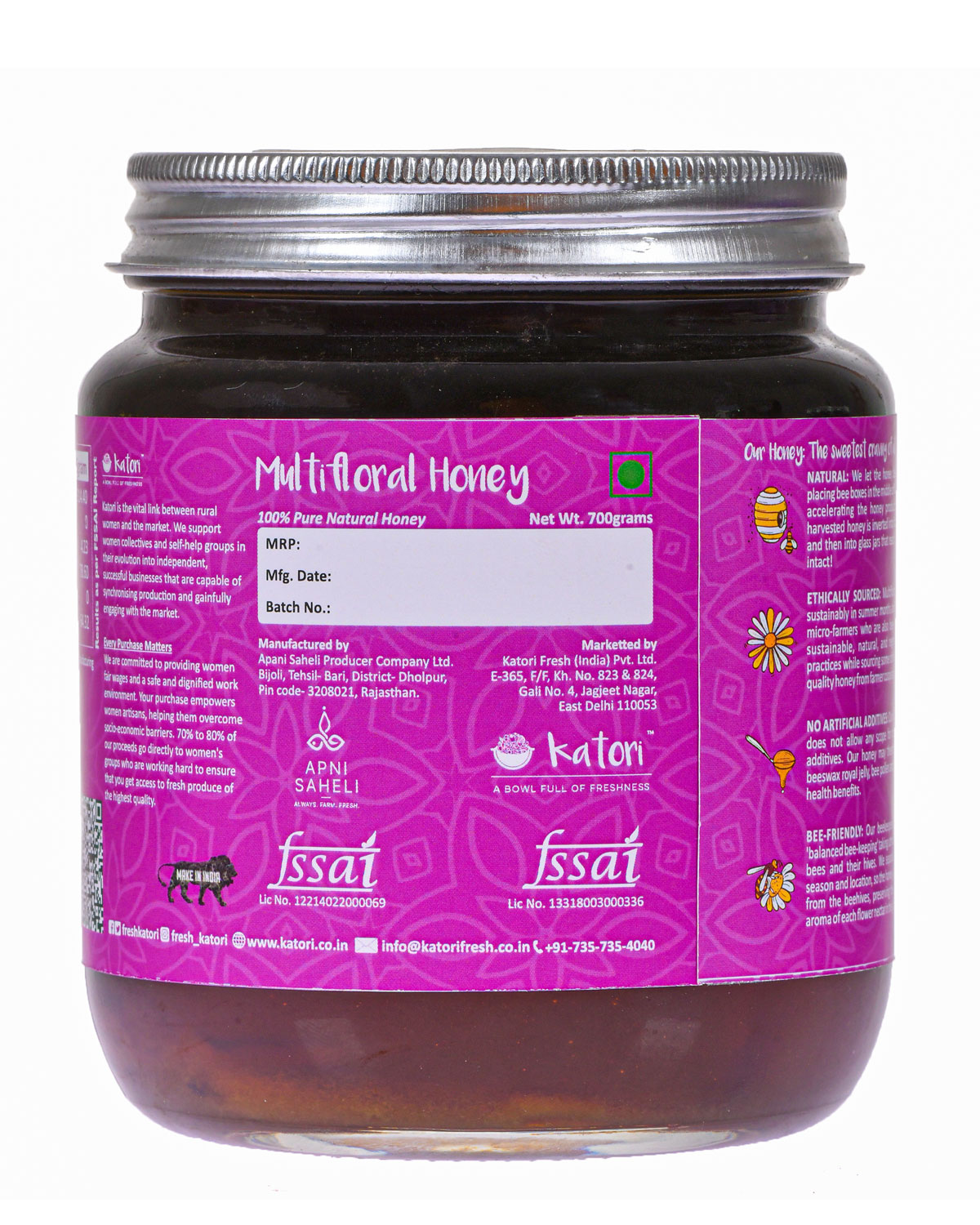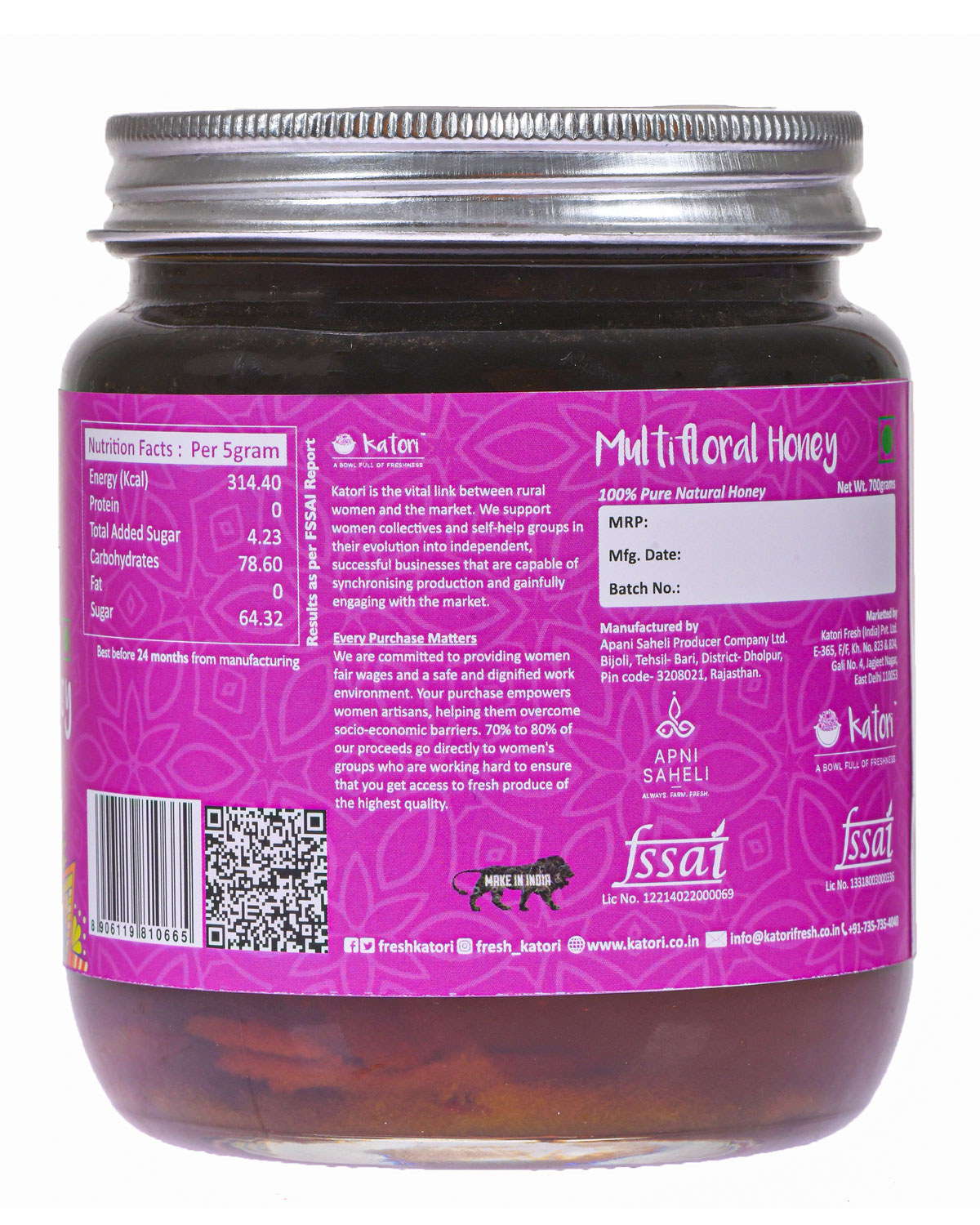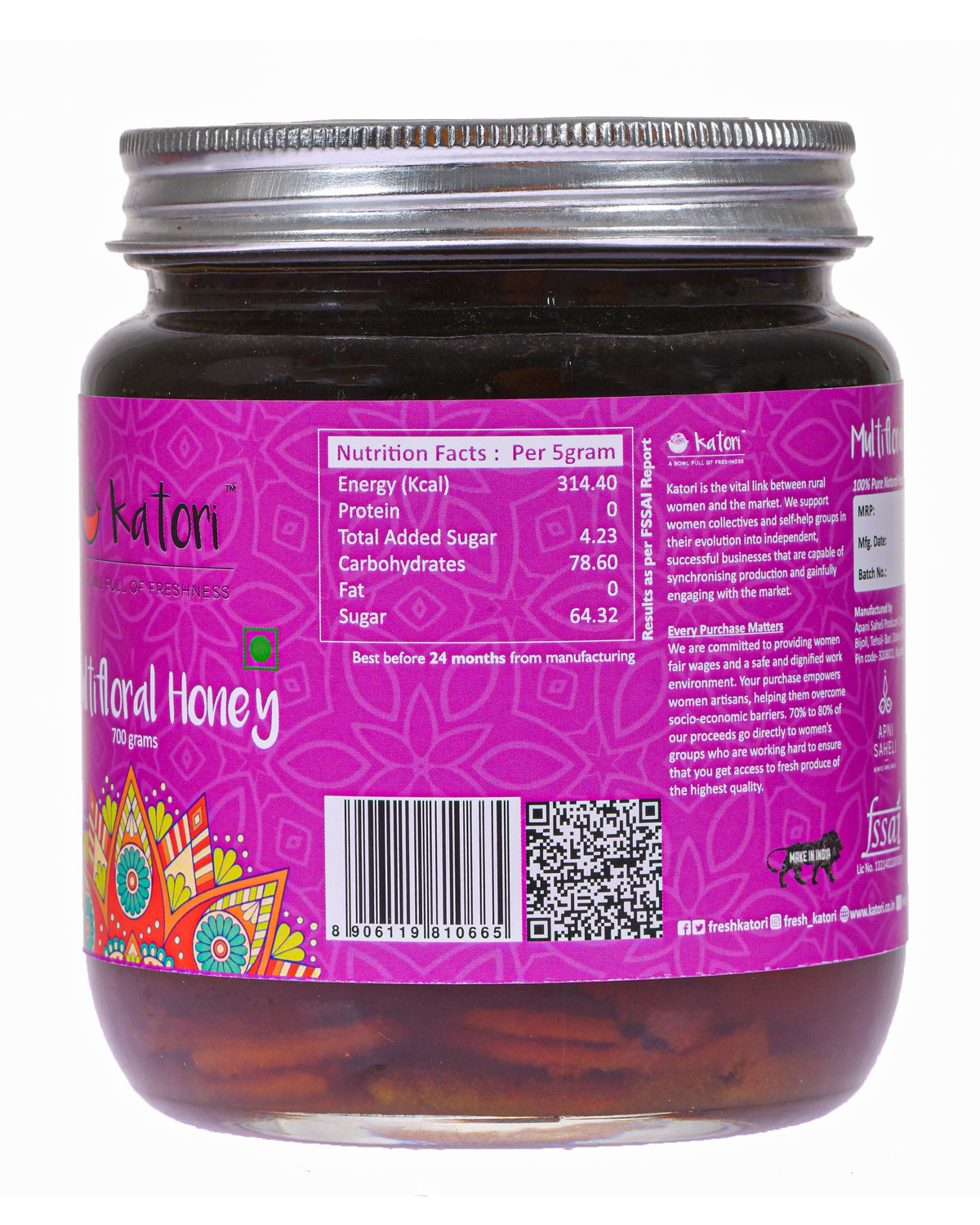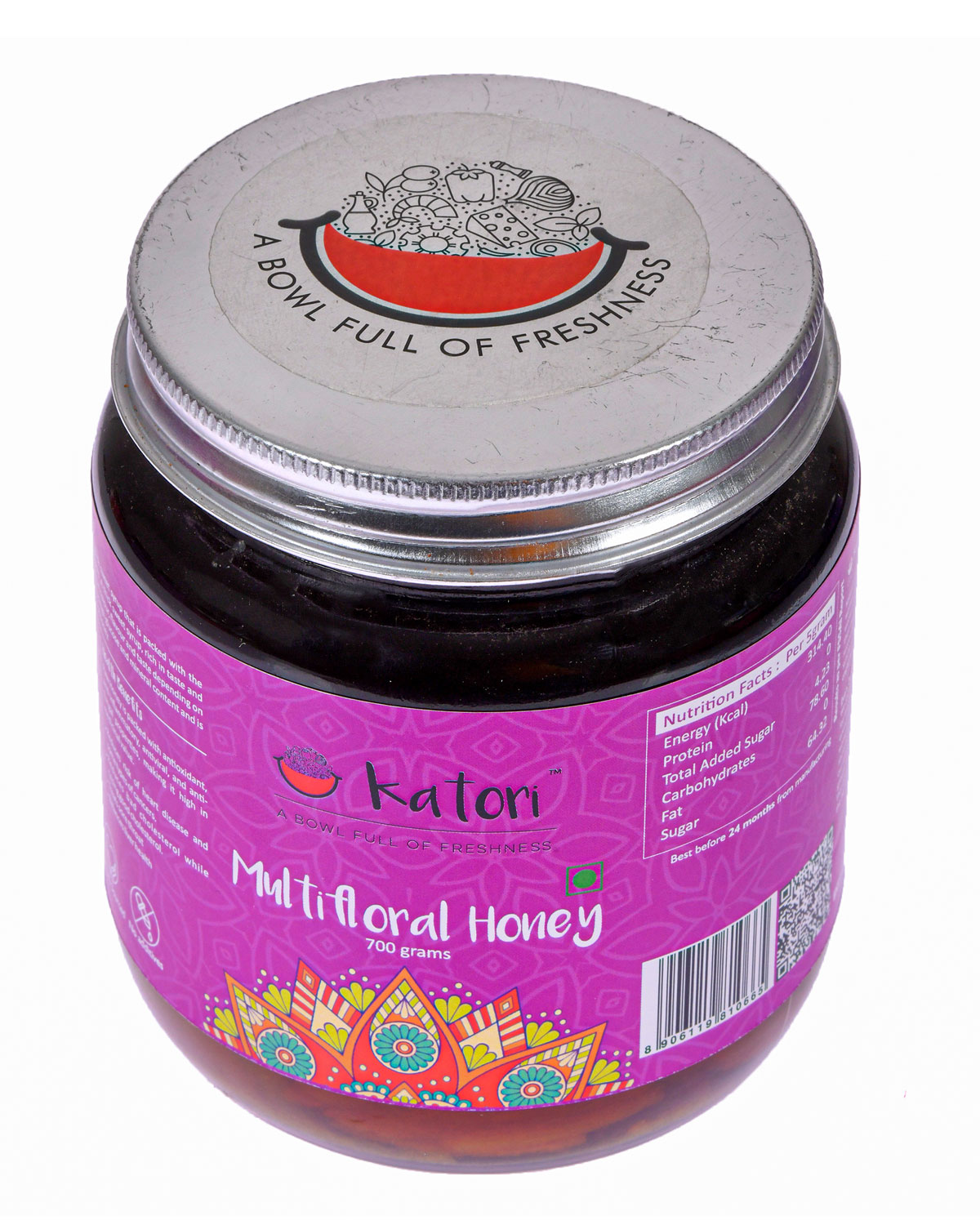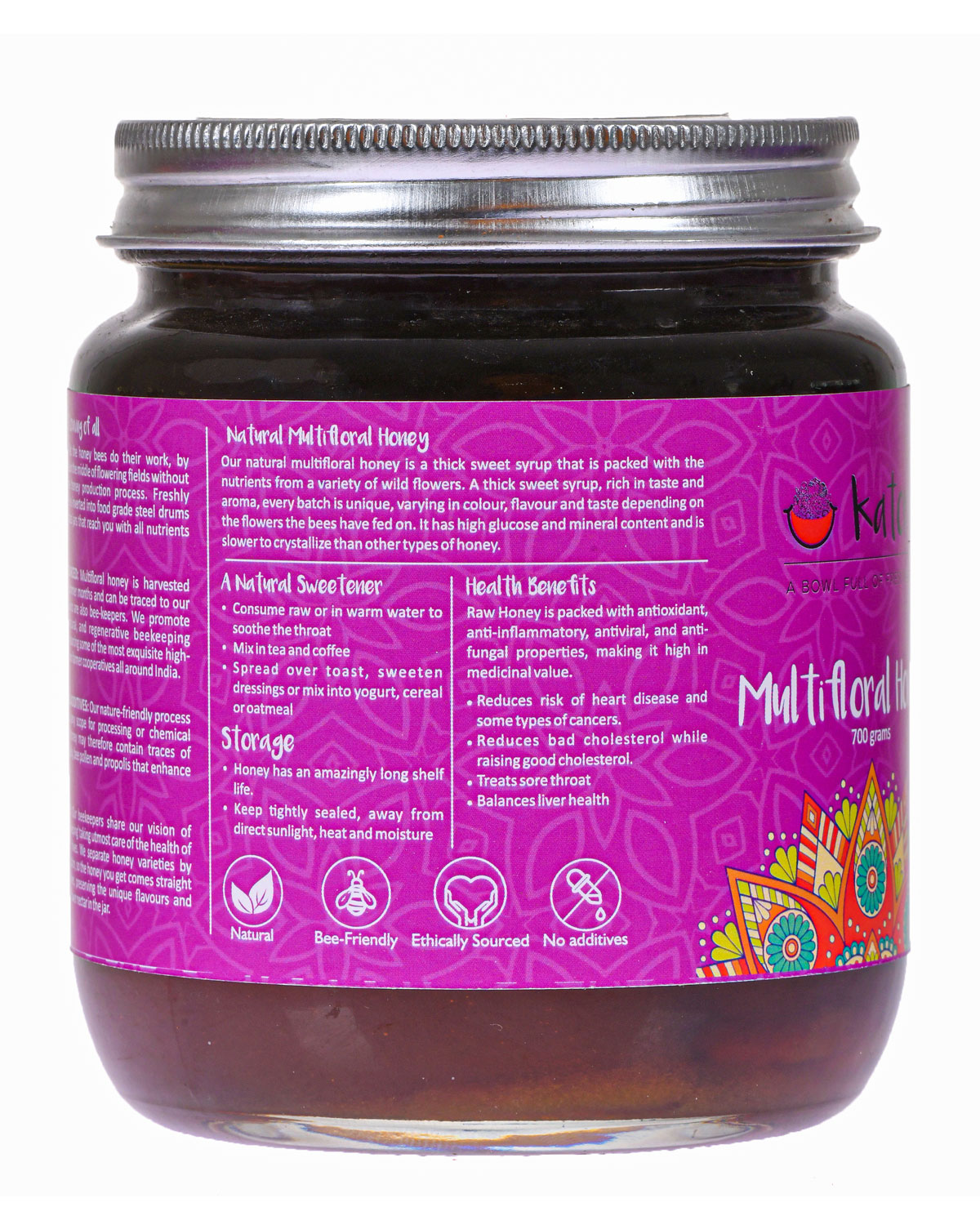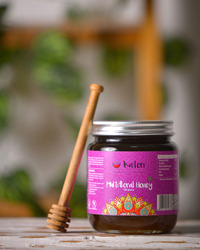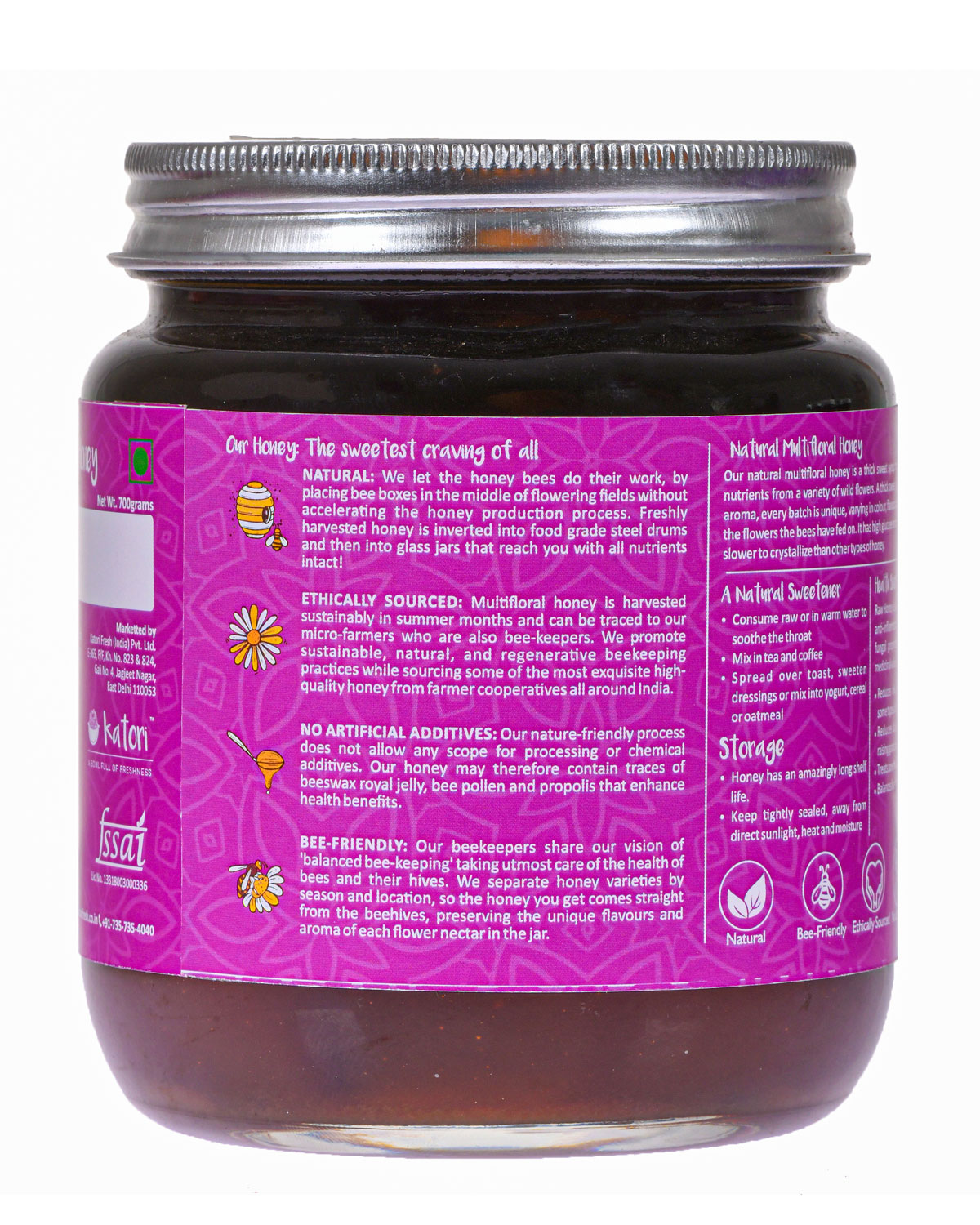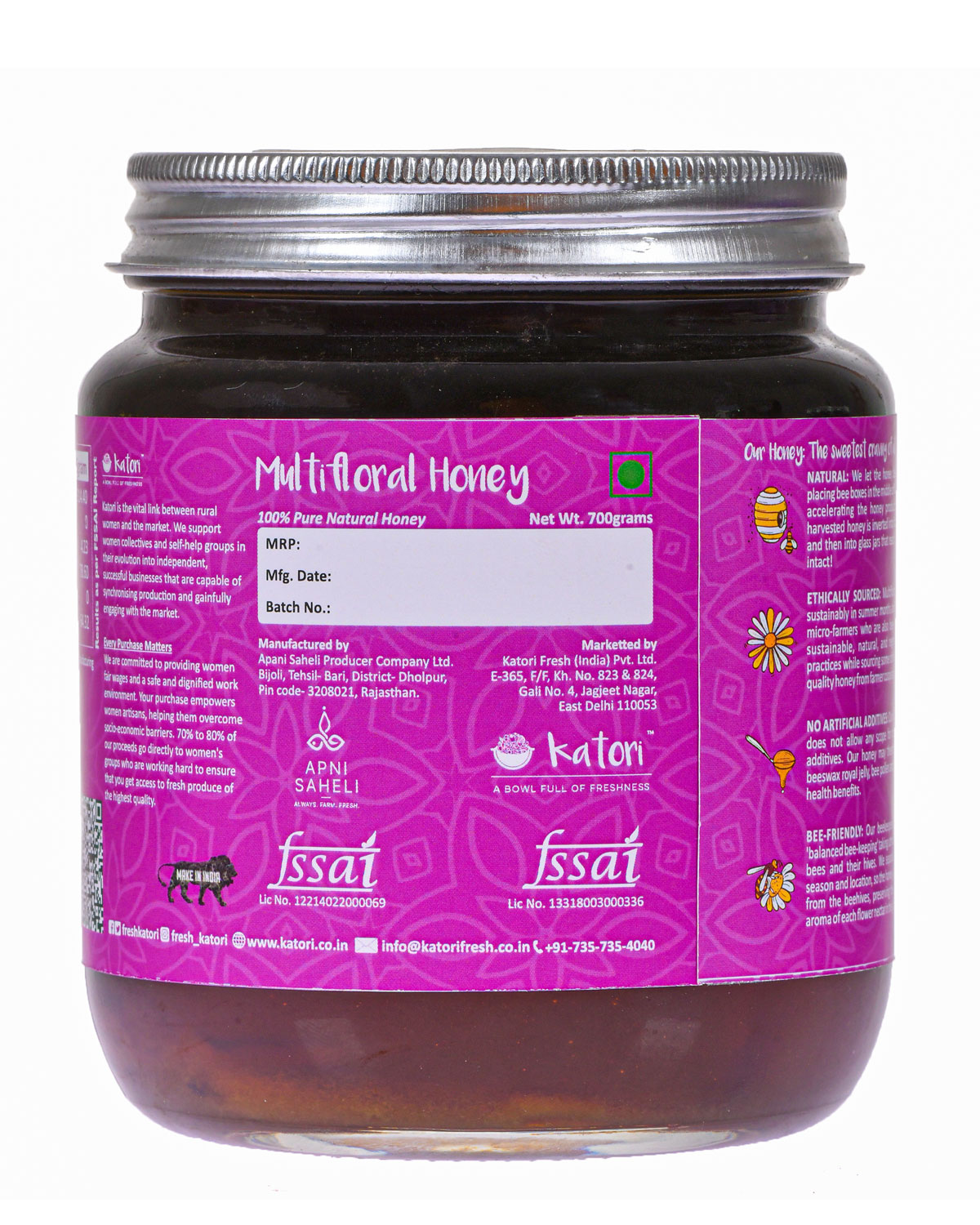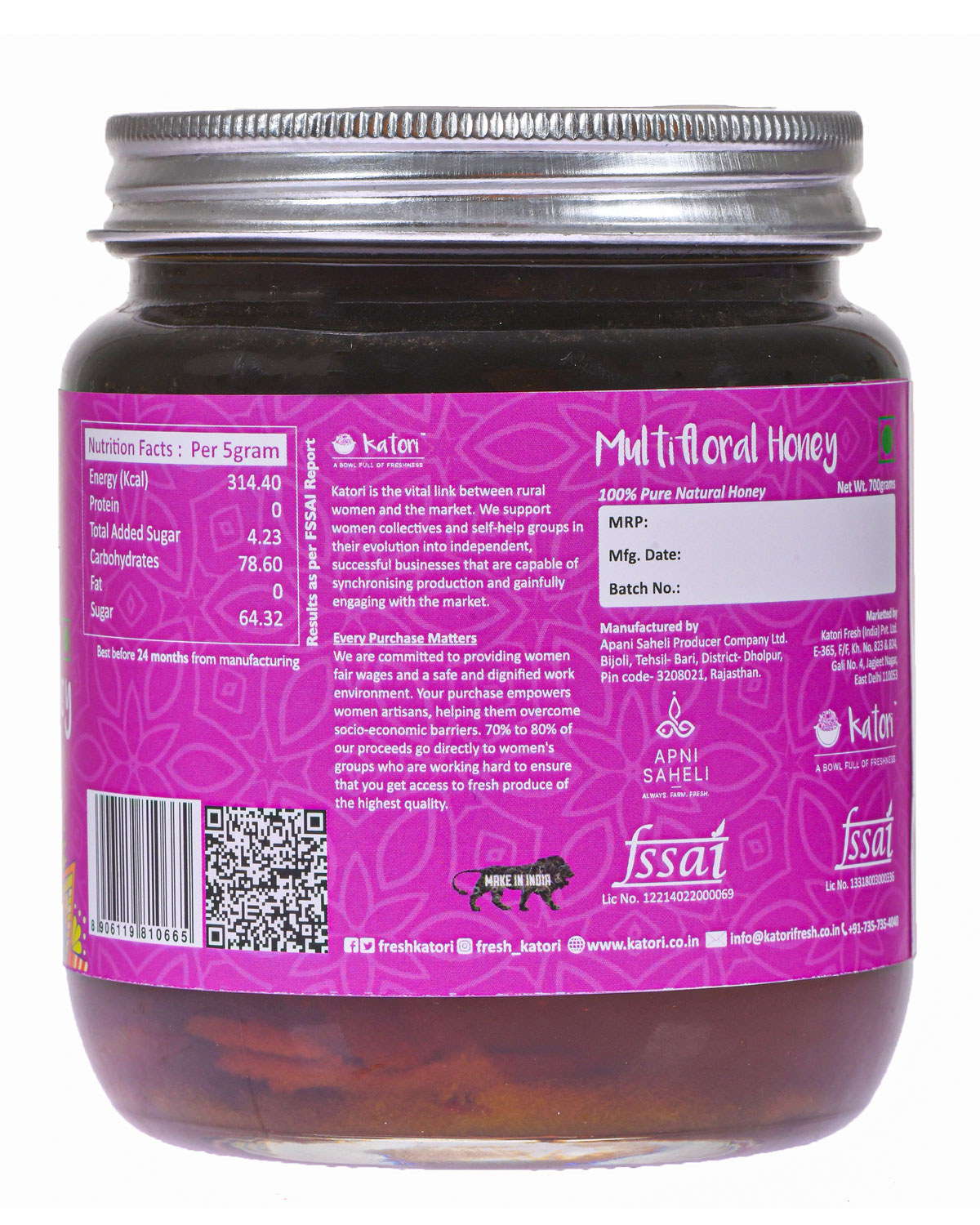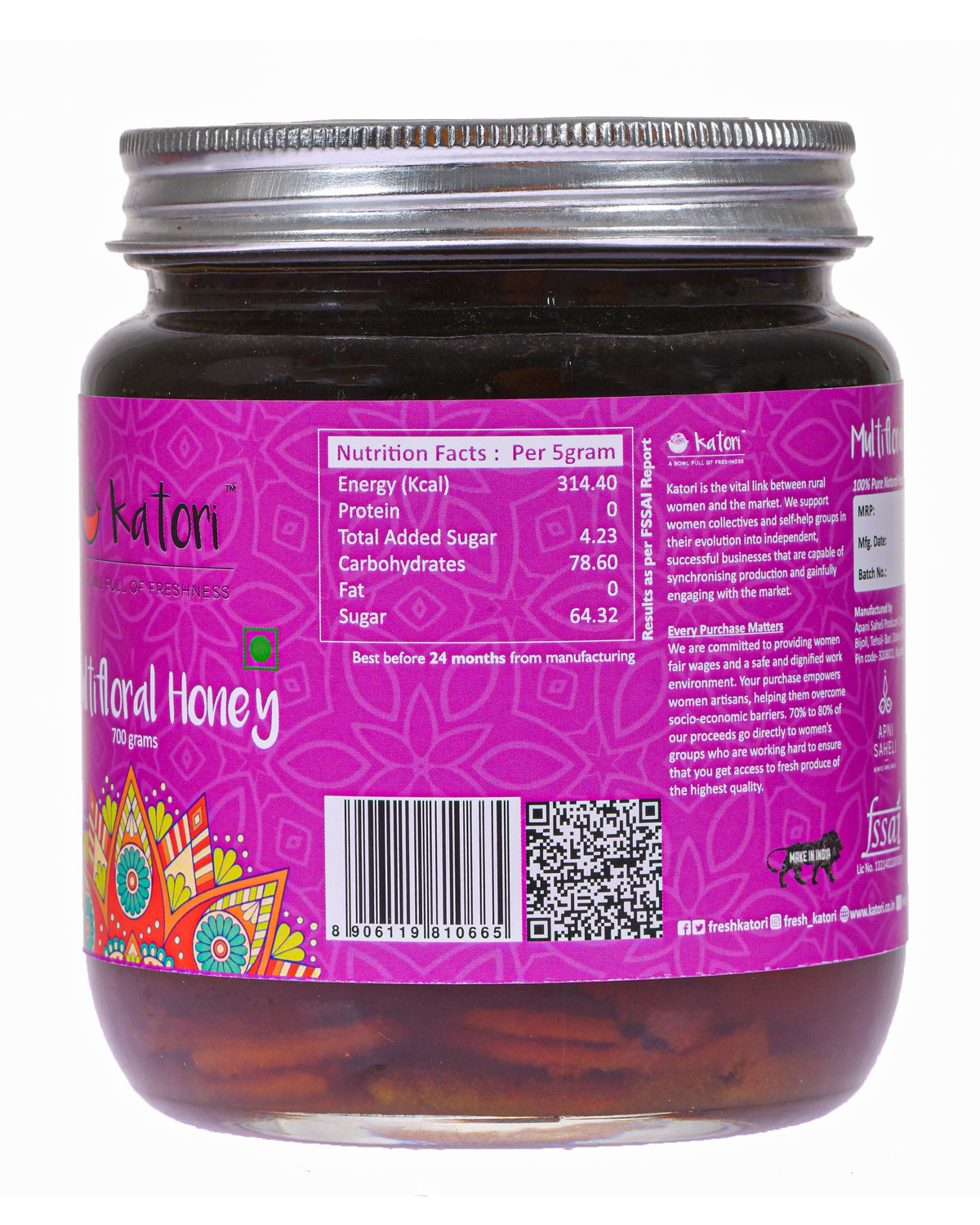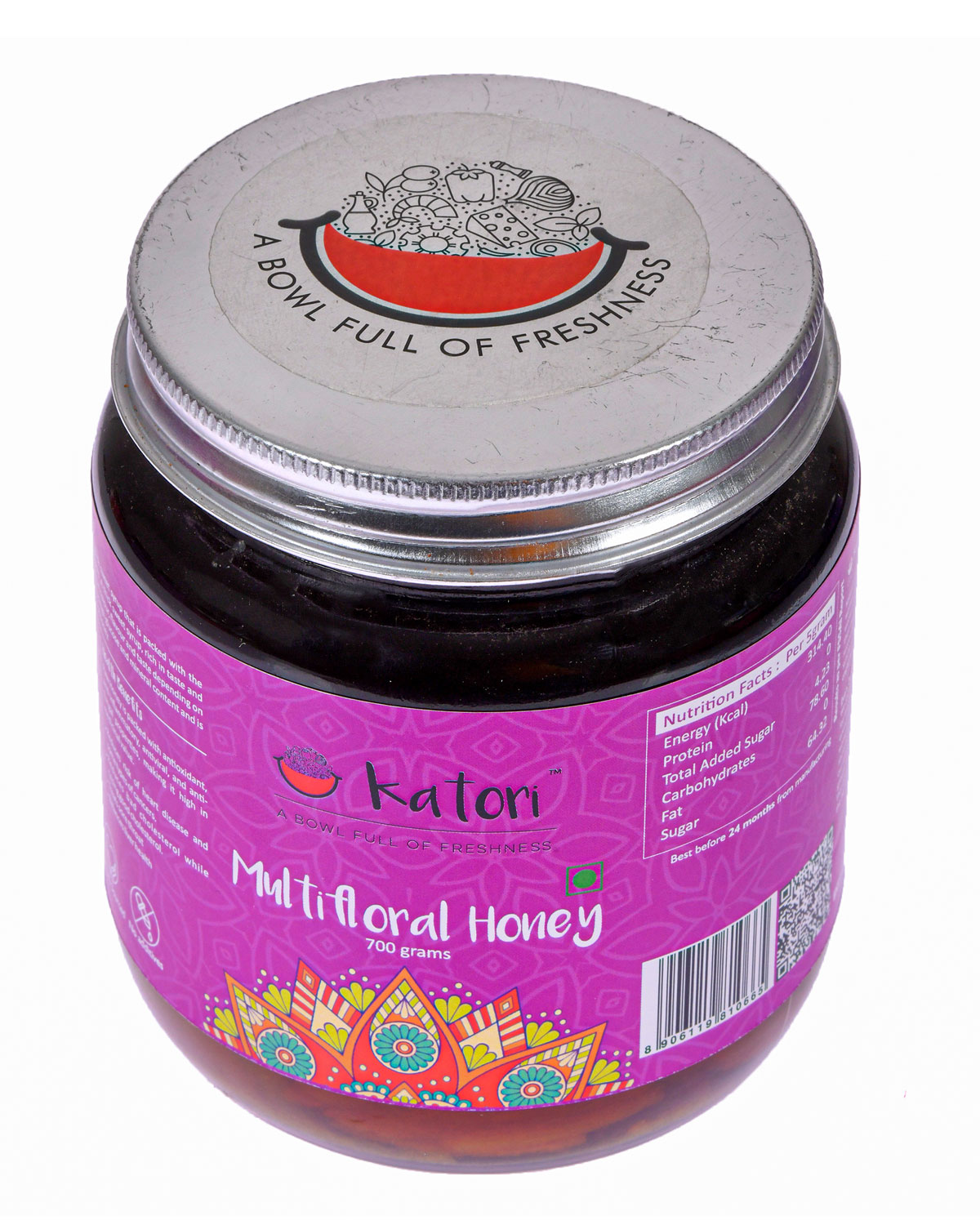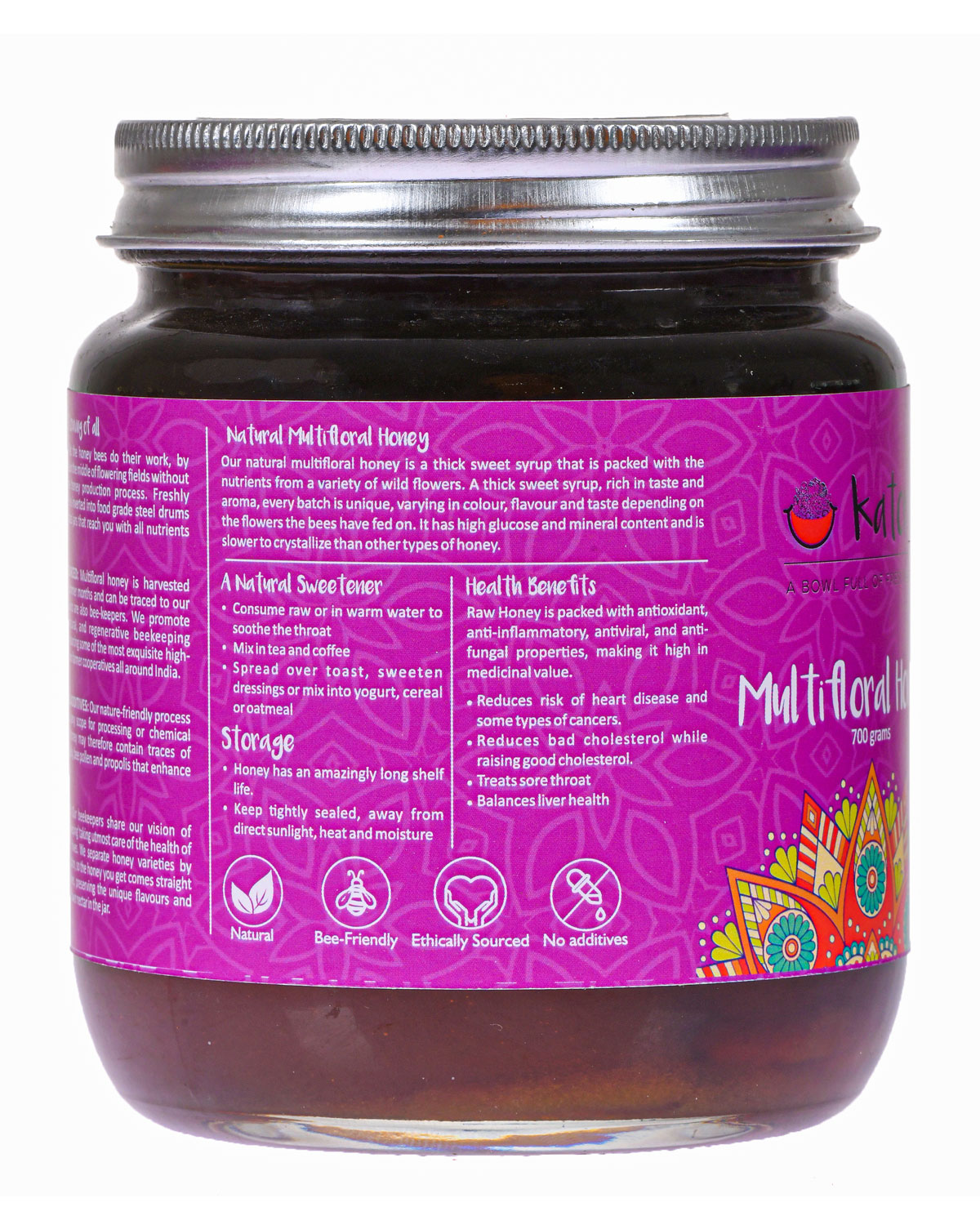 Katori Natural Multiflora Honey | Glass Bottle
Our natural multifloral honey is a thick sweet syrup that is packed with nutrients from a variety of wildflowers. A thick sweet syrup, rich in taste and aroma, every batch is unique, varying in color, flavor, and taste depending on the flowers the bees have fed on. It has high glucose and mineral content and is slower to crystallize than other types of honey.
---
---
A Natural Sweetener
Consume raw or in warm water to soothe the throat
Mix in tea and coffee
Spread over toast, sweeten dressings, or mix into yogurt, cereal, or oatmeal
No artificial additives
Our nature-friendly process does not allow any scope for processing or chemical additives. Our honey may therefore contain traces of beeswax royal jelly, bee pollen, and propolis that enhance health benefits.
Ethically Sourced
Our Multifloral honey is harvested sustainably in the summer months and can be traced to our micro-farmers who are also bee-keepers. We promote sustainable, natural, and ethical beekeeping practices while sourcing some of the most exquisite high-quality honey from farmer cooperatives all around India.
Great for Health
Honey is a natural home remedy to build immunity, combat seasonal allergies especially cough and cold as it has a high Vitamin C content and also aids in weight loss.
Natural honey contains important antioxidants and bioactive plant compounds. These include organic acids and phenolic compounds like flavonoids
Honey is effective for treating sore throat with its anti-inflammatory, antiviral, and anti-fungal properties.
Antioxidants reduce the risk of heart attacks, strokes, and some types of cancers.
Honey reduces "bad" LDL cholesterol while significantly raising "good" HDL cholesterol.
Honey helps in balancing liver systems and neutralizing toxins.
Bee-Friendly Process
Our beekeepers share our vision of 'balanced bee-keeping and promote a bee-centered approach while caring for bees and their hives. We separate honey varieties by season and location, so the honey you get comes straight from the beehives, preserving the unique flavors and aroma of each flower nectar in the jar.
Step 1: To extract mono-flora honey, our bees migrate to a location where the flowering season of a particular flora has started.
Step 2: We set up wooden beehive boxes at the heart of the flowering field so that bees can make multiple visits to flowers until they get all the nectar and pollen out of it
Step 3: No artificial acceleration is induced in the honey collection or production process
Step 4: The honey is produced naturally by bees by reducing the moisture content of the nectar to below 18%
Step 5: Freshly harvested honey is inverted into a food-grade steel barrel. Such naturally collected honey will have beeswax and traces of royal jelly, bee pollen, and propolis that enhances health benefits.
Step 6: The honey is bottled as-is into smaller convenient sizes without processing and this is exactly what reaches you, with all nutrients intact!
Storage
Honey has an amazingly long shelf life. The high concentration of sugars makes honey one of the most stable natural foods you will find.
Keep it in a cool location away from direct sunlight and in a tightly sealed container
Avoid heat and moisture
Best before 24 months from the date of manufacturing
We are committed to providing women fair wages and a safe and dignified work environment. Your purchase empowers women artisans, helping them overcome socio-economic barriers. 70% to 80% of our proceeds go directly to women's groups who are working hard to ensure that you get access to fresh produce of the highest quality.
Add a Review
Your email address will not be published. Required fields are marked *