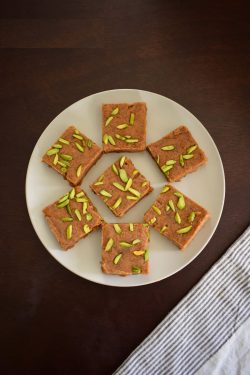 Gur papdi with Katori A2 Desi Ghee
If you are craving something sweet, Golpapdi can be an instant mouthwatering option. To get a perfect taste when you prepare Gujrati Golpapdi at home, you need to use ghee as the most important ingredient.
So, it is a great idea to take the help of healthy & traditionally-made Katori A2 Desi ghee to get the perfect aroma and flavours every time you prepare desserts at home.
Ingredients: let's try for yourself
Whole Wheat Flour (Atta): 1 cup
Katori A2 Desi Ghee: 1 cup
Grated jaggery (Gud): 1 cup
Sesame Seeds (Til): 1/2 cup
Mixed Dry fruits, chopped (Mewa): 1/3 cup
Grated dry coconuts: 1/3 cup
Cardamom Powder (Elaichi Powder): 1/4 tbsp
It's prep time:
Step-1: Start with crushing or grating the jaggery into very small pieces. The bigger the jaggery pieces, the harder it is to melt, resulting in unwanted soft lumps.
Step-2: In a heavy-bottom pan, add Katori A2 Desi ghee. Wait till it melts, then add wheat flour.
Step-3: Continue roasting the wheat flour on low heat until it turns golden and starts giving out a sweet, roasted aroma.
Step-4: Add the sesame seeds, chopped nuts, and any other condiments you might like. Stir for a minute and then remove the pan from the flame.
Step-5: Quickly add the grated jaggery and cardamom powder. Mix it thoroughly and immediately. Quickly stirring the mixture is necessary so that it does not become hard.
Step-6: Take the resulting mixture and spread it on a plate already greased with the ghee. Level it evenly with a spatula.
Step-7: Sprinkle roasted sesame seeds on the surface and gently press it.
Step-8: Cut it into square pieces after a few minutes, but don't remove them from the plate till they cool down completely.
Step-9: Once it is cooled down, remove the rectangular pieces and store them in an airtight box.